Arnold Schwarzenegger
Bodybuilding Icon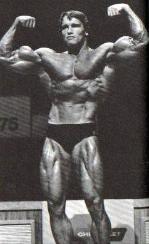 Call Arnold Schwarzenegger what you will, Austrian Oak, Mr Olympia or just sir, he remains a bodybuilding icon.

From small town Austria he has risen to Bodybuilding Champion, Movie Star and most recently Governor of California.


The Bio
Arnold Alois Schwarzenegger was born on July 30,1947 in Thal, Austria to parents Gustav and Aurelia.
Arnold Schwarzenegger was inspired by Reg Park, Johnny Weissmuller and Steve Reeves whom he watched on the big screen. He picked up his first weights at age 13, working out in the basement. In 1961 Arnold started training with former Mr. Austria Kurt Marnul in Graz, Austria.
During a stint in the Austrian Army, Schwarzenegger won the Jr. Mr. Europe contest(1965). He then went on to win Mr. Europe in 1966 and Mr. Universe Amateur in 1967. Coming to America
Arnold arrives in The United States in 1968 and trains under Joe Weider at the Santa Monica Gold's Gym. In his first Mr Olympia attempt, Arnold loses to 3 time champion Sergio Oliva. But Schwarzenegger redeems himself the following year, becoming the youngest Mr. Olympia ever at age 23. Eventually he won Mr. Olympia seven times, six of which were consecutive.
Arnold Schwarzenegger gained more fame when he was featured in the 1977 bodybuilding documentary Pumping Iron . The movie showed him training for the 1975 Mr. Olympia contest.
Steroids
Arnold did admit to using anabolic steroids while they were legal. Although in 1967 he wrote that they were not used to build muscle, but instead for maintaining muscle when cutting up.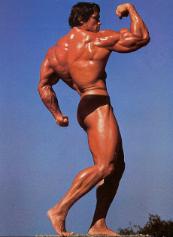 The Arnold Schwarzenegger Philosophy
The Basics
Resistance- You must add more weight to in order to make progress.
Reps/Sets- For upper body,do 8-12 reps in 3-4 sets.Your lower body will require 12-16 reps over 3-4 sets. End the set when you cannot do another rep with good form.
Range of Motion- A full range of motion is required to stimulate all muscle fibers.
Contraction- Concentrate on the target muscle while contacting. Maximize the load to target the muscle.
Rest- Take 48 hours for muscle recuperation.
Lift Heavy- Beginner bodybuilders should lift compound/ powerlifting exercises to build mass. Later add the high rep isolation movements. Once a week, have a "heavy day". Perform powerlifting and strength exercises.
Bodybuilding is much like any other sport. To be successful, you must dedicate yourself 100% to your training, diet and mental approach.
Arnold Schwarzenegger
Who is Greatest Bodybuilder of All Time?
Do you have an opinion on this? Share it!


Arnold Schwarzenegger Routine:Here is one of Arnold's constantly changing routines. He was also fond of Reg Parks version of the 5x5 bodybuilding routine.Check out our page on the 5x5 Bodybuilding Routine.
Remember that below is a professional routine. It may not work for you.
Mon, Wed, Fri
Chest:Bench press - 5 sets, 6-10 reps Flat bench flies - 5 sets, 6-10 repsIncline bench press - 6 sets, 6-10 repsCable crossovers - 6 sets, 10-12 repsDips - 5 sets, to failureDumbbell pullovers - 5 sets, 10-12 repsBack:Front wide-grip chin-ups - 6 sets, to failure T-bar rows - 5 sets, 6-10 repsSeated pulley rows - 6 sets, 6-10 repsOne-arm dumbbell rows - 5 sets, 6-10 repsStraight-leg deadlift - 6 sets, 15 reps
Legs:Squats - 6 sets, 8-12 repsLeg presses - 6 sets, 8-12 repsLeg extensions - 6 sets, 12-15 repsLeg curls - 6 sets, 10-12 repsBarbell lunges - 5 sets, 15 reps
Calves:Standing calf raises -10 sets, 10 repsSeated calf raises - 8 sets, 15 repsOne-legged calf raises (holding dumbbells) - 6 sets,12 reps
Forearms:Wrist curls (forearms on knees) - 4 sets, 10 repsReverse barbell curls - 4 sets, 8 repsWright roller machine - to failure
Abs:Nonstop instinct training for 30 minutes
Tues, Thurs, Sat
Biceps:Barbell curls - 6 sets, 6-10 reps Seated dumbbell curls - 6 sets, 6-10 repsDumbbell concentration curls - 6 sets, 6-10 reps
Triceps:Close-grip bench presses (for the all three heads) - 6 sets, 6-10 repsPushdowns (exterior head) - 6 sets, 6-10 repsBarbell French presses (interior head) - 6 sets, 6-10 repsOne-arm dumbbell triceps extensions (exterior head) - 6 sets, 6-10 reps
Shoulders:Seated barbell presses - 6 sets, 6-10 repsLateral raises (standing) - 6 sets, 6-10 repsRear-deltoid lateral raises - 5 sets, 6-10 repsCable lateral raises - 5 sets, 10-12 reps
Calves and Forearms:Same as Monday, Wednesday and Friday
Abs:Same as Monday, Wednesday and Friday.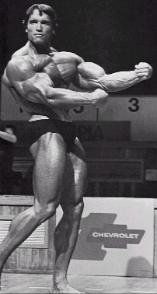 Arnold Schwarzenegger Peak Measurements
Arms: 22 inches
Chest: 57 inches
Waist: 34 inches
Thighs: 28.5 inches
Calves: 20 inches
Weight: 235 pounds
Height: 6' 2" +/-
Arnold Schwarzenegger Titles
1965 Jr. Mr. Europe (Germany)
1966 Best Built Man of Europe (Germany)
1966 Mr. Europe (Germany)
1966 International Power lifting Championship (Germany)
1967 NABBA Mr. Universe, amateur (London)
1968 NABBA Mr. Universe, professional (London)
1968 German Power lifting Championship
1968 IFBB Mr. International (Mexico)
1969 IFBB Mr. Universe, amateur (New York)
1969 NABBA Mr. Universe, professional (London)
1970 NABBA Mr. Universe, professional (London)
1970 AAU Mr. World (Columbus, Ohio)
1970 IFBB Mr. Olympia (New York)
1971 IFBB Mr. Olympia (Paris)
1972 IFBB Mr. Olympia (Essen, Germany)
1973 IFBB Mr. Olympia (New York)
1974 IFBB Mr. Olympia (New York)
1975 IFBB Mr. Olympia (Pretoria, South Africa)
1980 IFBB Mr. Olympia (Sydney, Australia)
Return to Bodybuilding Routines


Return Home from Arnold Schwarzenegger