Top Muscle Supplements
The following is a list of the Top Muscle Supplements of 2007 according to Bodybuilding.com.

The judging was based on industry expert opinion, customer votes, and sales volume. More than 267,000 customer votes were tallied, so this list is accurate and unbiased according to Bodybuilding.com.

And who better to ask what works than bodybuilders?

And the winners are:



Winner of Supplement of the Year and Protein Powder of the Year is Optimum 100% Whey.

Whey protein is considered your best protein supplement. Optimum Whey is nearly 79% protein by weight. A serving contains 24 grams of protein. Five pounds will cost you about $42.




---

The 2007 muscle builder of the year is BSN NO-Xplode.

This product promises elevated physical and mental energy, large pumps, and increased strength/stamina. Nitric oxide dilates (opens) the blood vessels to allow more oxygen and nutrients to be delivered to the muscle tissue. The cost for 2.7 lbs is about $50.




---

The fat loss product of the year is Nutrex Lipo 6.

This product is advertised as a quick, effective and safe fat burner. The fat burner liquid is held in 100% vegetable capsules. Pick up 120 caps for $28.






---

Creatine product of the year is BSN CellMass.

BSN calls this product "a post-workout and nighttime mass, recovery and performance activator." It contains 4 creatine analogs to increase effectiveness. It will cost you about $40 for 640 grams. Creatine in general, is one of the most popular muscle supplements. For a thorough explanation on creatine go to our Creatine Page.

---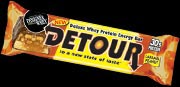 The protein bar of the year is Next Detour Bars.
These bars are high in protein, low in carbs, 97% lactose free and are said to taste great. Fifteen 43 gram bars will cost you around $20.



---

New product of the year is MuscleTech NaNO Vapor.

The literature on this stuff is extremely hyped and it's difficult to tell what is in the formula. The ingredient label lists nitric oxide, creatine, amino acids, and thermogeninic ingredients. Three pounds will cost you $40.




---

Glutamine product of the year is SciVation Xtend.

This product is a combination of glutamine, amino acids and vitamin B6. Xtend promises "to speed recovery, promote cell volumization, elevate growth hormones and provide energy."






---

Multi Vitamin of the year is Universal Animal Pak.

Each "pak" contains eleven tablets delivering 55 ingredients. A box of 44 paks runs around $25.







---

Weight gainer of the year is BSN True-Mass.

This product is aimed at those looking to maximize lean muscle mass gain. Three scoops provide 630 calories, 46g of protein, 76g of carbs, and 16g of fat. A 5.75lb jug will run you $42.




---
So do some research as to what you are putting into your body. If you think you need an edge, find a muscle supplement that will help you reach your goal. But remember, you can't buy hard work in a bottle.
---
Supplement Links:

Weekly Specials

Top 50 Selling Supplement Products

Search Supplements by Goal

Search Supplements by Catagory
---
Return Home from Muscle Supplements