The Total Gym - Reviewed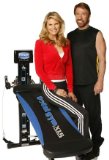 Your Total Gym XLS will include our new upgraded pulley and cable system, flexible nylon strap handles, an upgraded squat stand, a padded glideboard with head support and the chrome package. You will also receive the wing attachment, leg pull accessory and Pilates kit! All of our TG XLS models include the exercise wall chart, training deck as well as 3 instructional DVDs that will keep you on track and help get you the body you deserve.



Reviews:

"We love ours, even our friends come over to use it. It's a smooth workout that helps take pressure off your joints, but still gives you a great workout. My husband was already in great shape, but found that even though he's strong and in good shape he still gets an advanced workout with the total gym." by AE




"I love the TG XLS! I use to be into body building and I worked out with weights allot, but the problem with weights is that they tend to put allot of stress on your joints and if your not careful you can drop plates on yourself or hurt yourself badly with them. Some people think that if you're into body building that you can't use the Total Gym to build huge muscles, but that's not true! Because many times even in the world of body building it's not "How Much" weight you lift, but "How" you lift that counts! With a little know how the Total Gym XLS with the optional weight bar can easily give you more than enough weight to start building serious muscle mass fast! For example, bear with me for just a little bit while I go into detail in regards to its serious resistance potential. To start things off the maximum weight limit for the XLS is rated at 400 pounds. Now just to give you an idea, no matter if your using the pulley cables or not, along with your own body weight you will also be lifting the weight of the glide board itself which is somewhere between 15 to 25 pounds, but I'm not positive on that, so for the sake of discussion lets say the glide board is 20 pounds. If you use the optional weight bar with weights and you add on, lets say, 100 pounds, you're basically lifting a 120 pound glide board along with your own body weight! Now, if you do the math, you will understand better why I say that the Total Gym "Can" be used for the serious Body Builder for serious muscle building!" by SH


Take advantage of Free Shipping + 10% off (using code: 11001 at checkout) at Total Gym® today. Act Now!


More info on the TG Xls
---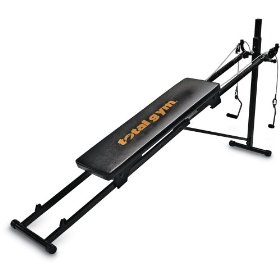 TG 1100 Want to tone your entire body without buying a complete home gym? Check out the TG 1100, which helps you strengthen and sculpt every major muscle group in your body. Offering more than 60 different exercises, the TG 1100 works by making you lift a percentage of your body weight against gravity, making the resistance smooth and fluid. As your strength and conditioning improves, you increase the total resistance by boosting the incline, thus increasing the body weight lifted in the exercise. The Total Gym 1100 not only works your upper body, but also your lower body, abdominals, and even your cardiovascular system. The compact, efficient trainer can replace an entire gym of equipment, yet folds away for easy storage in a closet. Also outfitted with wing and leg attachments, the TG 1100 measures 99.5 by 43.75 by 16 inches (W x H x D), weighs 54 pounds, and carries a one-year warranty.

Reviews:

"I bought the Total Gym 4 years ago and love it. My husband and I both use it and it's so much better than any big bulky equipment and takes up very little space. You can target any area on your body you want, it does everything. Proves you don't have to spend hundreds of dollars or join a gym to get what you need." by B

"Yes, there are a few downsides to this system. It can take up a bit of floorspace, and it is a bit pricey. But... I had this system a few years ago and loved it. I had to sell it when I moved into a tiny apartment and needed all the space I could get. I recently repurchased the item again and don't regret it at all. There are so many exercises you can perform with this unit, and after two and a half weeks I'm already seeing results. This is a great product for beginners or for those who want an inexpensive home gym." by EM

Read all 29 reviews...
---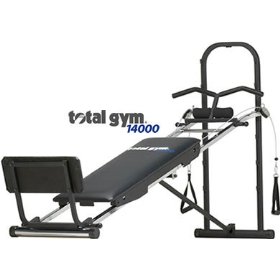 TG 14000 With over 200 strength, stretching and Pilates exercises, and six resistance levels, Total Gym 14000 provides full-body functional training that utilizes the core muscles of the stomach and back in every workout. You and your family can achieve your individual fitness goals, whether you want to lose inches, gain muscle, improve stability, or maintain peak fitness and performance levels. The NEW Total Gym 14000 accessory mounting system features solid, quiet, retractable pins with easy grip knobs. TG 14000 offers upgrade options that substitute the standard Squat Stand for a wide-based Telescoping Squat Stand with three adjustable height settings. The standard Wing can upgrade to the NEW 3Grip Pull-up Bar, Press Bar and Folding Foot Holder that tucks out of the way when not in use. Total Gym 14000 folds away easily for storage.

Reviews:

"I brought total gym for my wife when first total gym came out, almost ten years ago. I am a person that thinks about quality and safety of my wife.I am here to tell you that everything they claim is true. My wife love Total Gym. It is fun easy to use, and a good workout. I have noticed more energy in my wife."

Check out these low Total Gym prices...
---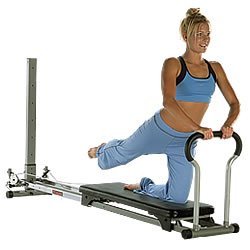 TG 1700 The Total Gym 1700 Club also offers several handy attachments that add a new dimension to your workout: a Pilates bar that helps you improve your range of motion and balance; a weight bar that lets you add up to 75 pounds of additional free weights to intensify your workouts (weights sold separately); dip bars and press-up bars; and an exercise mat to help protect your floor. All it takes to get in great shape is 15 to 20 minutes per day, three to four times a week.

Reviews

"My husband and I bought the TG 1700 model for ourselves as an early Christmas present. We were in the market for a home workout machine and had tested the Bowflex and Weider machines but found the cost to be too high for the Bowflex and the quality to be too "iffy" for the Weider. The Total Gym comes fully assembled and it is so much fun to use. I find myself looking forward to our workout nights all day long while I am at work (and I am usually a couch junkie, not a fitness buff). I told my husband it is like a Six Flags ride that you have to work hard for. You get a great workout, can do most any exercise you could do at the gym, the video that comes with it is excellent, plus you can use it for a great Pilates workout as well. For the money, I believe that it is the best machine you can buy. It does have one very easily correctable negative though, the cable pulley attaches under the seat with a karabiner that is small, sharp and downright ornery to get on and off. Just buy yourself a little larger karabiner (or use one that you got as a prize for excelling at skee ball) and in a few weeks, you too can look like Chuck Norris or Christie Brinkley (the folks from the infomercial)!" by LG

"I will be 68 in 2009 and have been using my existing Total Gym 1000 for 15 months now. I do 35 minutes of exercise 4 days a week at level 7. I just purchased a TG 1700 at a local sports store yesterday. This is a great machine for any age and the slower you do the exercises the better. This machine has four or five features my TG 1000 does not have and allows a 350 lb. weight limit. I purchased my Total Gym 1000 new a number of years ago but did not use it until recently. I did not realize what I was missing and will not let that happen with the new machine. If you have some health limitations you can work around them with specific exercises ( over 60 exercises ). Try it, you will like it." by JS

See all

See all 59 reviews...
---