Improve Your Muscle Fitness
with Bodyweight Exercises
Body weight exercises are an excellent way to improve your muscle fitness. The main advantages are that no equipment is required and you can do them pretty much anywhere. All you need is your body and gravity. Both should be reasonably priced.
These exercises are a great way to get in shape before you begin a weight training program. Or you can augment other training programs with Calisthenics.
Body weight exercises include push ups, sit ups, squats, pull ups, crunches etc. Pretty much everything they made you do in PE.

You may also be interested in our Build Muscle Without Weights page.

Advanced participants also do handstand push ups, one arm push ups, one legged squats, and weighted pull ups.
To increase muscle mass and endurance you must increase the load and volume of the exercise. Using push-ups as an example, you can change hand position, elevate your feet, increase reps, add sets or increase time under tension. You can even wear a weight vest or use only one arm.





Special Alert-Craig Ballantyne sent the M-F-T crew a copy of his newest body weight workout program called Turbulence Training for Abs.
My friends, this program ROCKS. And for a short time you can give it a 21 day test drive for only $4.95. This is a no brainer! Do not Click Here if you want to remain out of shape.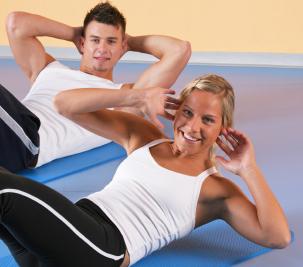 If you want to master the secrets of the super strong using only your body, I have a book recommendation. It is written By Pavel Tsatsouline, world renowned Russian strength expert and former Spetsnaz instructor. You will get into top shape fast using Pavel's techniques. Check out Naked Warrior





Here Is A Simple Bodyweight Workout:
Pull ups 5 reps
Push ups 20 reps
Jumping Jacks 25 reps
Squats 25 reps
Once you feel that you're in shape, give this a try:
Spartan Bodyweight Workout:
Pull ups 25 reps
Squats 50 reps
Push ups 50 reps
Burpees 25 reps
Box jumps 50 reps
Jumping jacks 50 reps
For an excellent bodyweight program, check out Workout Without Weights by coach Eddie Lomax. There is a ton of great information in this e-book. And you can't beat the price at less than $20.
If you can't picture yourself on the floor doing push ups and sit ups, there is another bodyweight exercise option.
It's the Total Gym. Did you know that you can do 80 different exercises on this equipment?
So if you are ready to get toned and slim, check this out.
Your friends here at M-F-T found you a 10% off coupon for the Total Gym.
Total Gym Home Fitness Equipment - Over 1 Million Satisfied Customers. Limited Time 10% OFF with Promo Code: 11001



Now is the time for YOU to muscle up and get fit...





Return from Bodyweight Exercises