Treadmill Reviews
These treadmill reviews are from actual customers.


Treadmill Reviews #1


Bowflex Series 7 The top-rated Bowflex Series 7 Treadmill is an intense cardio workout system with a powerful 3.0 horsepower continuous-duty motor and fifteen workout programs, providing ultimate variety in your exercise routine every time. The programs include a wide range of options, including manual, cardio, fat burn, speed interval jogger, hill intervals, heart strength/recovery test, calorie goal, distance goal, cardio heart rate calculation, body mass index (BMI) test, and two custom programs to truly personalize your workouts. In addition, grip and telemetric heart rate monitoring and a backlit LCD computer display track your heart rate and metrics as you exercise.

Treadmill Reviews:

"I read consumer reports looking for the best treadmill for someone other than a serious distance runner. This was the recommended machine. Its a bit pricey and you do have to do assemble it when it arrives, but its a great machine. It even has a built in fan. One caution, make sure to assemble it in the room where you want it to be and don't expect to be able to move it between rooms because when assembled its too wide for standard doorways." by BB

"Our Bowflex Series 7 Treadmill was ordered and delivered in 5 days.Assembled - up and running within 45 minutes due to the super organized packaging and instructions.Enjoyed our first workout on it, belt and bed were sturdy and absorbed our consistant and strenuous foot pounding without pain in our joints.Easy and quiet operation, the manual operation of the speed and incline is so easy.Heartrate monitor works fabulous and is a very effective workout tool.We researched this purchase and could not be more pleased with the overall quality of this treadmill.Order it, I am 5'7" and my husband is 6'and the fan is aimed perfectly and works nice, if you workout hard and really sweat though you'll need a floor fan of course to get more of the air moving around your whole body.Runners high here we come!!!!!:) " by CP

See all 161 reviews...
---
Treadmill Reviews #2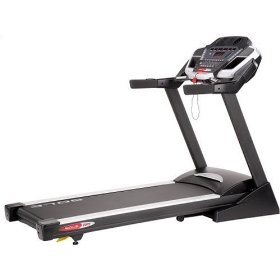 Sole f85 Treadmill The top model in Sole's folding series, the F85 treadmill is a great fit for serious workout enthusiasts. The F85 boasts a powerful 3.5-horsepower, continuous-duty motor--the most powerful in the Sole line--that delivers speeds of up to 12 miles per hour and inclines of up to 15 percent. The club-style tri-color LED display, meanwhile, includes a message board for clear instruction and feedback, while also tracking your speed, incline, time, distance traveled, calories, pulse, and pace. There's even a 1/4-mile track feature that you can follow as you run and a peak-and-valley graph that corresponds to individual programs. And when you're not using the treadmill, it folds into a compact footprint and locks securely in place, thereby saving a ton of storage space.

Treadmill Reviews:

"I have a late 2006 model which is identical to the 2008 model as far as the specs. There has been a slight cosmetic design change but nothing drastic. My wife and I have been running and walking on this machine for over a year and a half and we've had no problems. The heart rate monitors could be better but I'm not convinced any of the treadmills offer anything more accurate. They get you in the ballpark. The warranty is what really matters and few machines match Sole's much less alone exceed it." by GP

"I purchased the Sole F85 treadmill on 6/25/08 directly from Sole and took advantage of the free shipping they offer. They shipped it out the next day and I received it on 7/1/08 in perfect condition. It was incredibly easy to put together, it took about 30 minutes to do. I've used it everyday since it arrived. I walk 4-5 miles per day at 8-10 degree incline and so far no worries. I used to get terrible shin splints with my old treadmill at half the speed and no incline but since I've started walking on this machine I haven't had a single twinge of pain. No regrets on this purchase what so ever!
The only negatives I can really come up with are the built in fans and H.R. display. Because I'm only 5' tall the fans can't be adjusted low enough to hit me. No biggie. The other thing is the with the H.R. display. When I wear my Polar H.R. monitor it comes up on the LCD display but is inaccurate. Off by up to +20 bpm in comparison to the Polar H.R. setup I wear. Since I use a Polar monitor it really isn't an issue with me but could be an issue for others." by HB

See all 5 reviews...
---
Treadmill Reviews #3


LifeSpan TR2000 Treadmill The LifeSpan® TR2000-HR Treadmill is designed with the motor tucked underneath the frame, saving up to 18" in the overall treadmill length while still providing a 54" running surface. Having the motor underneath the frame supports a walk thru hood design, making it almost impossible to kick the hood while walking or running and still keeping you close to the handlebars and console.The LifeSpan® TR2000-HR Treadmill includes an all steel frame construction, heavy duty deck, 2.5" tapered rollers, 2.0 HP Continuous Duty Motor and oversized tubing. The result is a compact treadmill that supports users up to 300 lbs.The electronics include the features you need without being complicated and the hydraulic assisted folding feature gives you the convenience to store the unit in small places.

Treadmill Reviews

"I switched shifts so I cancelled my gym membership and decided to buy my own home gym...I did not have that much room in our spare room so I looked for a treadmill and bike that would take up little space. After reading reviews on Consumer Reports and Treadmill Dcotor I decided to buy the TR 2000-HRC treadmill. I love it! I can go uphill and downhill, it is super quiet and it gives me the same running surface size as the other treadmills I was looking at but does not have the hood in the front (which I always kicked at the gym!) and takes up more than a foot less space! I have been using it for about 2 months now 4 to 5 days per week and would recommend it not only for the small size but for the quality!" by TR

"I purchased this treadmill based on the awards and TV shows that I saw this unit featured for its small footprint. I have limited space in my townhome and have been looking for a folding treadmill that I could jog on. This has been a great unit and I LOVE the ability to walk uphill or downhill!
Anyone looking for a folding treadmill that takes up little space and has a great warranty and bells/whistles...this is your unit." by SS

See more reviews...
---
Treadmill Reviews #4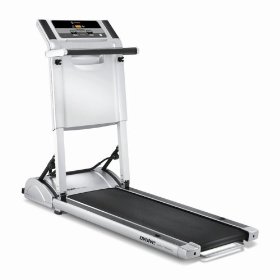 Horizon Evolve SG Whether your goal is to win races or simply enjoy a fuller, healthier lifestyle, the Horizon Evolve SG Compact Treadmill can help you attain it with its unique blend of convenience, comfort, and control. Designed to get you up and running fast, the Evolve SG requires no assembly, weighs only 99 pounds and is built around a sturdy pair of wheels. This makes it exceptionally easy to set up right out of the box, or move to the most convenient spot in your home or office on the fly. Once your workout begins it's just as easy to monitor, modify and maintain your workout schedule with its simple console controls, a thumb pulse heart rate monitoring system, two workout programs (manual and weight loss) and built in speakers that let you to add some tunes to your workout when you plug in your MP3 or CD player. And after you are done your Evolve SG folds down to a very manageable 10 x 59 inches, allowing you to store it out of the way in the upright position against a wall, or horizontally underneath a bed.

Treadmill Reviews

"The treadmill came completely assembled so when it arrived, i just threw the packaging away and used it the same day. when i saw that it would fit under my bed, i was skeptical but lo and behold, IT FITS. how nice since my apartment is so small. no problems with delivery or anything. everything was exactly as i expected, i would recommend for anyone looking for a very compact, easy to use basic treadmill." by S

"This is truly an outstanding product. I took less than five minutes to turn it on, no need to do anything other than taking it out of the box, open it and plug it in the outlet.
I use it to walk fast while reading or browsing the web. It is very stable and silent. So far, so good - the quality of the product looks much higher than treadmills twice as expensive. Not sure if it is good for running (I am not a runner...), but definitely the ideal product for a walker. I also have a long stride, despite its compact size it fits perfectly my exercise patterns.
It is also very easy to fold and unfold, just a little harder to get around (it is a bit heavy, the small wheels definitely allow for portability, but you require some effort to carry it around)The folded profile is quiet small. The look is very trendy - nobody complaints at home if visits take a look to it while unfolded in the middle of the living room, as in the manufacturer's you tube video... A much better value than several treadmills that I tried at sport stores and gyms." by AP



See all 11 reviews...



Return Home from Treadmill Reviews